Activities
Swiss Benevolent Society's Annual Afternoon Tea Party at the Embassy – 2017
On 8 June 2017 the Swiss Benevolent Society UK welcomed a group of Swiss citizens in honor of their birthdays – 80th, 85th, 90th and onwards, to celebrate at the Society's annual Afternoon Tea Party held at the Swiss Embassy. It was wonderful to celebrate their birthdays together and to see everyone enjoying the entertainment, Swiss wine, English High Tea and new acquaintances. We, the Trustees, were delighted to learn the many beautiful stories of all the compatriots who attended (the largest turn out so far 77 guests) and their Swiss history and how they came to live in London. We have already received a flurry of thank you messages; and on behalf of the Swiss Benevolent Society, we must sincerely say the pleasure was ours. Suzanne Egloff Chairman of the Swiss Benevolent Society
//////////////////////////////////////////////////
Dear Mrs Egloff,
Thank you for inviting me to the Tea Party in the Swiss Embassy. My Husband and I had a most enjoyable afternoon, meeting lots of lovely people. I have been living in London for 70 years but I still get a proud feeling when I see the Swiss Flag.
Best regards, M.G.

Dear Petra,
Thank you again for a wonderful afternoon last Thursday. My son and I thoroughly enjoyed ourselves. All you hard work was very much appreciated and a great success too. Please pass on our thanks to all.
Best wishes, A. D.

Dear Sirs,
We very much enjoyed the Tea on June the 8th. It was beautifully done. Everyone from personnel to personalities was charming and welcoming.
Thank you, yours faithfully, A. E.

Dear Mrs Egloff,
Many thanks for the lovely Birthday Party, it was my second one, the last time was my 85th.
Yours sincerely, M. P.
Swiss Benevolent Society's Annual Afternoon Tea Party at the Embassy – 2016
On 14 June 2016 the Swiss Benevolent Society welcomed a group of senior Swiss citizens celebrating their 80th, 85th, 90th and onwards, birthdays to the Society's annual Afternoon tea party held at the Swiss Embassy.
It was wonderful to celebrate their birthdays together and it was interesting to get to know so many people. We, the Trustees, were delighted to learn the many beautiful stories of all the compatriots who attended (the largest turn out so far) and their Swiss history and how they came to live in London. We have already received a flurry of thank you replies; and on behalf of the Swiss Benevolent Society, we must sincerely say the pleasure was ours.
Suzanne Egloff
Chairman of the Swiss Benevolent Society
//////////////////////////////////////////////////
I would like to thank you for putting on such a fabulous event. Everybody present clearly had a terrific time. I think you have provided a much-needed boost to a number of people who don't get many opportunities to socialise, at their age. My mother, myself and everyone on our table had a great time and also made new friends. I love Switzerland and am proud of my Swiss roots. I have wanted to become more actively involved in Swiss cultural activities for ages. The Swiss Benevolent Society do a great deal of good work and have kick-started my active involvement! Please let me know how I could get involved as a volunteer.
I. H.

I enjoyed my afternoon and want to thank you and everyone involved in preparing this event which was a great success.
E. B.

Thank you for your kind invitation. It was such an enjoyable occasion.
C. G. P.

We would like to say a big thank you to the SBS Team for the lovely Tea Party. Everything was so beautifully done and well presented. We also enjoyed meeting friends old and new. We look forward to seeing you all again in the not too distant future.
A. D. and S. B.

It was lovely to meet you again, after five years!  My mother and myself enjoyed ourselves very much.  The food, the quiz, the music, and especially the company, it really was an excellent couple of hours. It really has turned out to become an annual success. My employer operates an "Employee Matching Fund" and I'm happy to arrange a donation. Ch. O. Thank you very much for the invitation and the most enjoyable afternoon. I appreciate the extremely hard work to make this event such a success. With my best wishes,
F. L.

My husband and I so very much enjoyed the Afternoon Tea Party. Lovely and good entertainment. We met some very interesting and congenial people at our table. A really good afternoon!
D. A.
Swiss Benevolent Society's Annual Afternoon Tea Party at the Embassy – 2015
On 17 June the Swiss Benevolent Society (SBS) hosted its Annual Senior Citizens' Tea Party at the Swiss Embassy in London. This event is gaining in popularity every year with now over 50 guests attending. Brief welcomes were extended by Ambassador H.E. Dominik Furgler. He introduced the new SBS Chairman, Suzanne Egloff who at the recent Society's Board Meeting was duly elected following the retirement of Alan Martin who served the Society over 12 years. At the same time he thanked Mr Martin for his tremendous commitment to the Society. Mrs Egloff explained the various ways in which the UK Society helps the Swiss expat community. The principal aim of the Society is to enhance the quality of life of fellow Swiss, old and young, from all walks of life, who are experiencing difficulties. It supports and informs its compatriots about issues of concern and interests through the work of its Welfare Officer and public seminars.
The Society's Welfare Officer, Petra Kehr-Cocks, was on hand to revitalise existing contacts and to make new acquaintances. In addition, representatives of the Consulate were also in attendance to address any formal issues, as were also some of the charity's trustees.  
After a toast to the birthday guests with sparkling Swiss wine everyone tucked into sandwiches and scones. This was followed by a quiz and a session of bingo. The party closed with a sing-along of a selection of popular Swiss songs and on leaving each guest received a bag of Swiss "goodies". A wonderful time was had by all.
Suzanne Egloff
Chairman of the Swiss Benevolent Society
Swiss Benevolent Society's Annual Tea Party at the Embassy
On 9 July 2014 the Swiss Benevolent Society hosted its Annual Senior Citizens' Tea Party at the Swiss Embassy in London. A wonderful time was had by all (see photos above). 
Alan P Martin
President of the Swiss Benevolent Society
Quotes copied from "Thank You" letters
I attended the Afternoon Tea with my son John. It was such a fabulous occasion, impressively organised, very much enjoyed.
We felt royalty entertained with fun and games and offered the most delectable teatime fare any Michelin star restaurant would be proud to serve.
My son and I were overwhelmed by the care taken to make the afternoon exceptionally memorable.
The event seemed to be thoroughly enjoyed by everyone. The atmosphere in the room spoke volumes.
I rarely manage to get out, so yesterday was an enormous treat for me, and the first time for years that I could come up to London.
For me the songs reminded me of some happy occasions during my childhood.
I particularly loved the sing along accompanied on your splendid grand piano.
It was interesting to meet so many Compatriots and we both enjoyed the Afternoon Tea very much.
Splendid Tea Party!
As well as learning about the Swiss Benevolent Society, we had most interesting conversations with those sitting near us.
It was good to speak to fellow compatriots.
We enjoyed the Quiz to test our memories and general knowledge in a great variety of spheres.
My friend Julie was delighted to win the Bingo price!
Great goodies in the Swiss bag!
I found the outing stimulating and wholly enjoyable, I am most appreciative of your warm reception.
Please send me the form to complete to donate to the Society, under the "Gift Aid" scheme.
Selected and put together by Jeannette Crosier
The Senior Swiss Citizens' annual Tea Party 2013
was again a great success. More than 30 local Swiss compatriots celebrating their 80th, 85th and 90th birthdays in 2013 accepted the invitation from the Swiss Benevolent Society London. The event was heralded as particularly special as this was the first opportunity for the older Swiss generation to meet the newly appointed Ambassador, Dominik Furgler. During the afternoon guests were informed about the work of the Society and opportunities to receive financial support. The group of expats was particularly interested in the Society's visiting service to compatriots in their homes.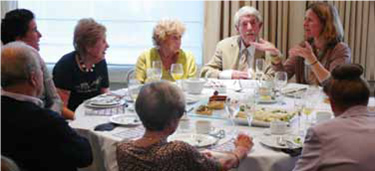 SBS Welfare Officer, Petra Kehr Cocks, in conversation with guests.
Quotes
"You really smothered us with wonderful food, drinks, games and gifts, all very Swiss!"
"The songs we sang reminded me so much of my childhood in Switzerland."
"It was my actual birthday, thank you for laying out such a party!"
Annual General Meetings
The AGM was held on 17 May 2016 at the Swiss Embassy in London. The Annual Report 2015 can be downloaded from this website, please click here.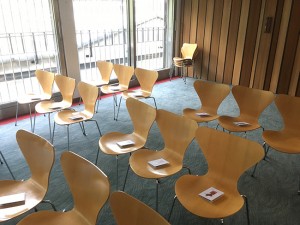 Any Story?
If you have any stories involving the Swiss Benevolent Society London and, if possible, a photo, we would like to hear about them. Please contact us.
Read our latest story here.