Monday, May 19th, 2014
was again a great success. More than 30 local Swiss compatriots celebrating their 80th, 85th and 90th birthdays in 2013 accepted the invitation from the Swiss Benevolent Society London. The event was heralded as particularly special as this was the first opportunity for the older Swiss generation to meet the newly appointed Ambassador, Dominik Furgler. During the afternoon guests were informed about the work of the Society and opportunities to receive financial support. The group of expats was particularly interested in the Society's visiting service to compatriots in their homes.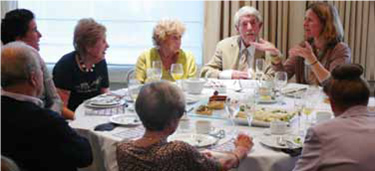 SBS Welfare Officer, Petra Kehr Cocks, in conversation with guests.
Quotes
"You really smothered us with wonderful food, drinks, games and gifts, all very Swiss!"
"The songs we sang reminded me so much of my childhood in Switzerland."
"It was my actual birthday, thank you for laying out such a party!"