Testimonials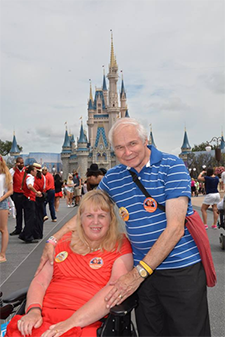 Swiss Benevolent Society supported Mr & Mrs M visiting their son
in the US with a contribution to the hire of mobility equipment.
Mr M:  "Once again, many thanks for your support, having not
seen my son for 8 years we were finally able to visit with him"
---
My  wife and I were touched to  receive an invitation  from the  Swiss Benevolent Society to a Tea Party  at the Swiss Embassy London.
The party was well attended  and a jolly afternoon. We were seated at a round table. Unbelievably,  at this table another 1935 male guest was seated who, together with me was in the same Swiss Army School (Rekrutenschule) in Liestal 60 years ago! It made me quite  homesick when I learned  the gentleman returns every year to his native village Weissligen in the upper Basel area  to help pick the famous cherries. We were both  born in the same Canton , however, you can clearly distinguish the lower Basel Allschwil and the Weissligen upper Basel dialects.  For a short time I relived my happy  Youth and  the time in the Army.
Swiss Benevolent Society, you achieved  with this invitation not only a meeting with a fellow "old age" Swiss compatriot but also the feeling that I am a real CH citizen.
Greetings, herzliche Gruesse
Ben Trinkler
---
A few words about the tea party.
I was glad that I decided to come all the way to London to attend the party.
It was well organised and we were very well looked after! So many nice poeple to look after all the guests.
We had a lovely tea and also some sparkling wine.
We played bingo (though I didn't as I don't like it). My highlight was the singsong! So many songs to remind me of school days!
Later I had a chat with a lady at the same table and what a surprise we had!!! We were born in the same town, in the same year then moved to the same place a little later where we went to school. To crown it all: we both are called Heidi!!!!!!!!
With kind regards Heidi Cook
PS I took the song sheet home to Switzerland to my brother and sister to see how many of the songs they remembered,.and we had a bit of a singsong together. 
---