Interview: The Swiss Benevolent Society's effort to support Swiss Nationals in need
Friday, May 29th, 2020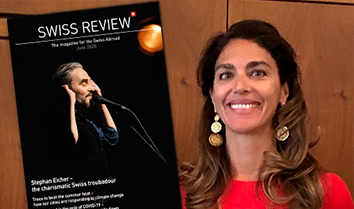 Interview in the latest issue of Swiss Review with Chairman of the Board Suzanne Egloff
The Swiss Benevolent Society (SBS) has a long history of assistance, intervention and care in  the United Kingdom. Since its foundation in 1703, its aim has been to help fellow Swiss living in the UK, of all ages and walks of life, who are experiencing difficulties. It offers wellbeing and welfare services to support and empower those in need to live a better quality of life. It has always worked closely with the Embassy and local British authorities to properly address every person's specific needs. The recent period has been demanding for the Society: first Brexit and the Settled Status applications and now the pandemic. Suzanne Egloff, chair of the SBS, explained to Swiss Review that, since the beginning of the coronavirus emergency, around 50 extra people have been supported by the Welfare Officer and SBS Covid19 Helpline volunteers. This number is likely to increase in the forthcoming weeks as the lockdown continues. In addition, the SBS is working assiduously to ensure everyone with difficulties can apply for Settled Status before the deadline of
30 June 2021.
Swiss Review: SBS has been accredited as advisors for the settled status scheme by the Office of Immigration Services Commissioner (OISC). How many Swiss citizens have you helped so far?
Suzanne Egloff: The SBS, as OISC-accredited advisors, is able to provide assistance to individuals who are in need, at risk or vulnerable, in making the application for Settled Status, allowing them to continue to reside in the UK. We work closely with the Swiss Embassy and Case Workers at the EU Settlement Scheme Resolution Centre to ensure our citizens struggling with the application process are appropriately supported in submitting their application and in receiving a reply. In doing so, our Charity received 130 telephone calls for support; sent 55 information letters with a step-by-step guide on how to do the application online, plus information on local councils or authorities to help with the application process: we held 27 in-person appointments in person with Swiss citizens to work jointly on the application process.
SR: What are their main difficulties and concerns?
SE: Typically, many individuals seek a better understanding as to why they are required to complete the Settlement Application, or whether it is necessary at all. 'Do I really need to do this?– I have lived here for over 60 years and have Indefinite Leave to Remain (ILR), and only have a stamp in my passport indicating this, do I still need to apply?', in this case, it is highly recommended by the Swiss Embassy that the Settlement Application is completed; however an ILR authorisation would still be acceptable to remain in the UK.
Most frequently, individuals are concerned about technology. The application can only be completed online via desktop or phone Apps, plus an email account is also required, which some people don't have. More- over, for personal identification, individuals need to submit either a pass-port, a scanned passport or a photo ID via a phone application; and all these must be done online. Some people don't even have a valid passport or an ID and must go to the Swiss Embassy for this. We at the Swiss Benevolent Society help individuals overcome these technology struggles. In spite of the speed of the growing pandemic, we are still receiving calls for help on the applications. According to the latest figures provided by UK Home Office in March 9th, 4,000 Swiss Settled Status applications have been granted; meaning that approximately 50% of Swiss citizens still need to apply. The official online Settled Status campaign might have less prominence in the media, but it remains an open national issue.
SR: Because of the lockdown and self-isolation, there might be many people who are alone and need support. What kind of help is SBS offering them in this difficult period?
SE: Yes, this is a very important situation for our Charity and Social Welfare is our main mission; to support and enhance the wellbeing of Swiss Citizens in the UK, during such unprecedented times. The SBS has set up a specific Helpline – with the support of the Embassy – for Swiss of all ages who wish to simply chat, discuss COVID19-related issues impacting them,, such as physical or mental health and financial distress. With our helpline we are supporting all members of the Swiss Community; for instance single-parent families who have to manage their children and jobs, plus young students who were here before the pandemic and have to live the lockdown alone. Also, some individuals may feel isolated: there are people who live alone or far from their loved-ones or even with others in their household, and feel lonely and wish to chat with someone neutral. Our charity has financial funds set aside for the possible impact that Covid19 may have on the income of Swiss Citizens, who are not eligible for UK government funding.
SR: Are you planning any future measure to help them cope with this situation?
SE: The SBS volunteer-staffed COVID 19 Helpline is in place to help relieve COVID19-related difficulties and work with individuals on identifying local advisors or organisations who can help with services such as food and pharmaceutical deliveries etc. It is critical to have social contact at a time like this, as isolation can be mentally and physically hard for everyone. We are also able to talk and listen to citizens to help relieve loneliness, anxieties or simple concerns during this isolation phase. For example, many people keep asking: 'What's going on? For how long this can go on?'. We don't have an answer but we can listen to their concerns. We might also talk about activities that they can do at home such as a reminder to appropriately exercise and how to keep busy. We remind them, particularly people suffering from loneliness, to do whatever makes their day interesting. We also have our Welfare Officer, Petra Kehr-Cocks available to support those with more complex needs. Financial Aid in the form of short-term small grants or loans has been structured by the Swiss Benevolent Society as support for those suffering financially from COVID19's impact on jobs and income.

Read the full Swiss Review Issue 03/2020
Gioia Palmieri