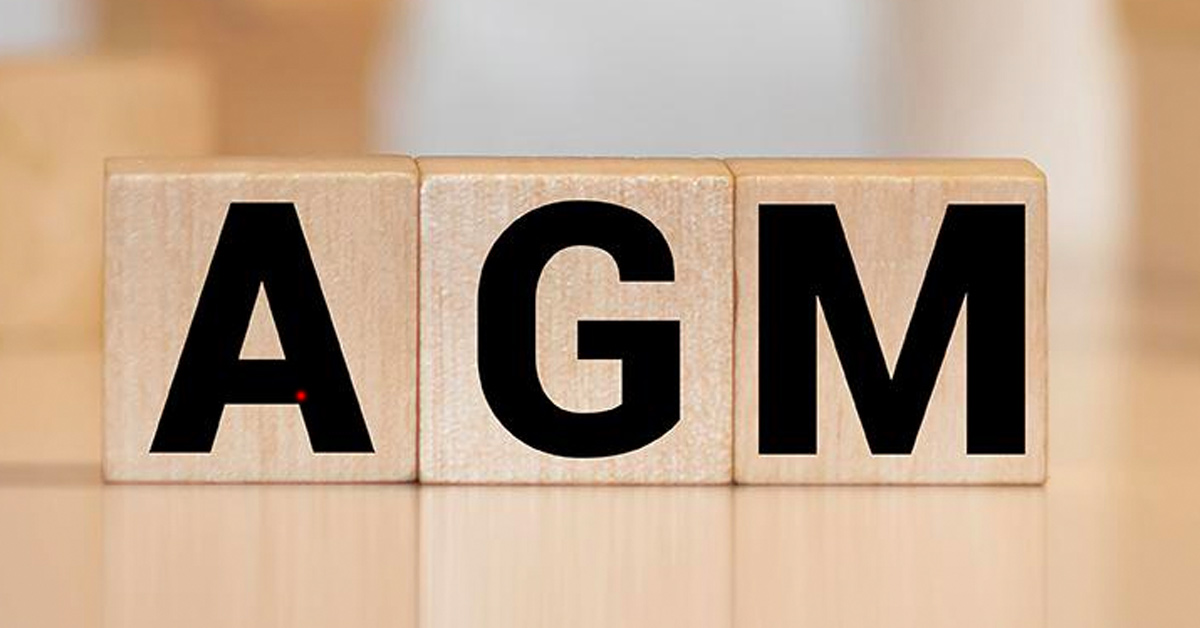 AGM – Annual General Meeting 2023 for Members
Date:
Thursday, 05 October 2023 at 7.00 pm
Location:
In Person: Swiss Embassy London
Virtually: Zoom link to be sent to confirmed attendees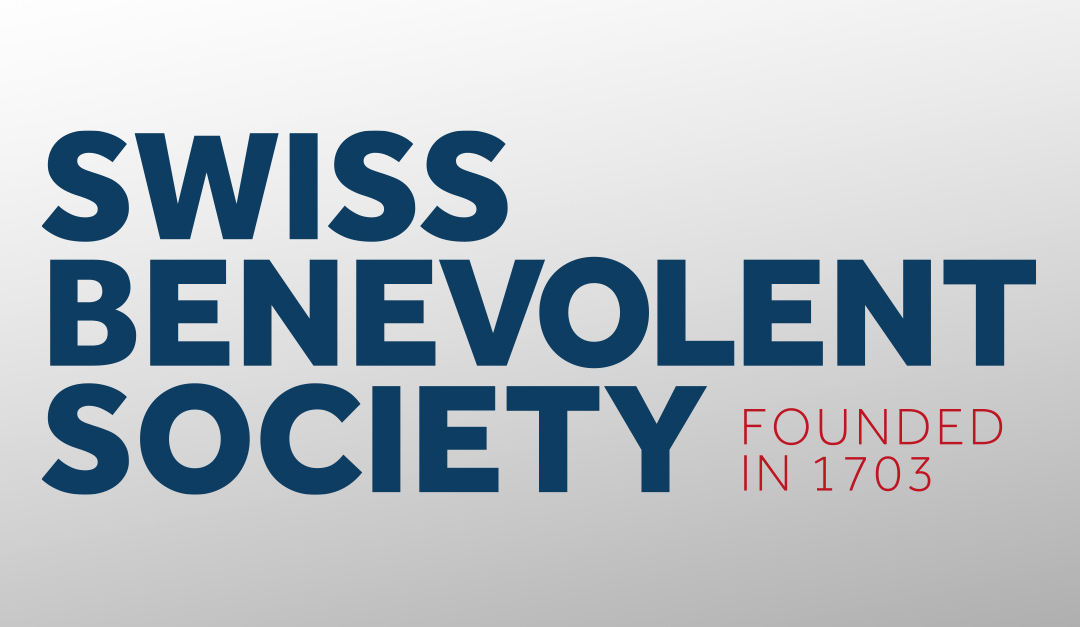 Swiss Benevolent Society
Our last event held for 2022 was the Annual Tea Party. The Swiss Benevolent Society will resume with our regular events in 2023.
Visit the Swiss in the UK Facebook Group to join various events over the year.
In the meantime, if you wish, please feel free to send us your memories in Honour of HM the Queen by email and do let us know if you permit us to share them on our website as anonymous mentions or with initials, for the purpose of confidentiality. Click for contact
Thank you for your continued involvement and support of the Swiss Benevolent Society and of our fellow Swiss residing in the UK, in creating a more caring community together.
The SBS Annual Tea Party 2022
The SBS Annual Tea Party on October 14th, celebrated the vibrant birthdays of fellow Swiss having turned 80, 85, 90 and the years thereafter in 2022, embracing wellbeing of health, new friendships, community, and our shared Swiss-British culture. Have awaited several years of hardship from the pandemic to pass, this was the first such wellbeing community event hosted by the SBS to honour life and age with entertainment and food finely embracing both Swiss and British Cultures with singing and team-based trivia games.
The Celebratory Co-Hosts the SBS Patron, H.E. Ambassador Leitner and the SBS Chairman Suzanne Egloff, welcomed 50 guests to the Swiss Embassy for a celebratory birthday traditional tea party where guests shared life stories of the past few years and how they came to the UK, as Swiss. Friendship, shared interests and conversation amongst guests filled the room and were joined-in by the SBS Welfare Officer Heidi, as well as with the Mrs. Leitner and the SBS Advisor from the Embassy, Mr. Laurent Vuillemez.  Everyone joined in together with Lena Lang singing as she led the room in German, French and Italian lyrics, whilst later Jeannette Crosier led the tables as they enthusiastically worked together on fun team-based Swiss-UK trivia quizzes filling the room with joy, laughter and excitement.
"So glad you could invite us again this year and I could attend! As I was 92 in May I unfortunately missed out twice due to covid restrictions. But we all made up for it at this year's party. Keep going and I will!" R. T.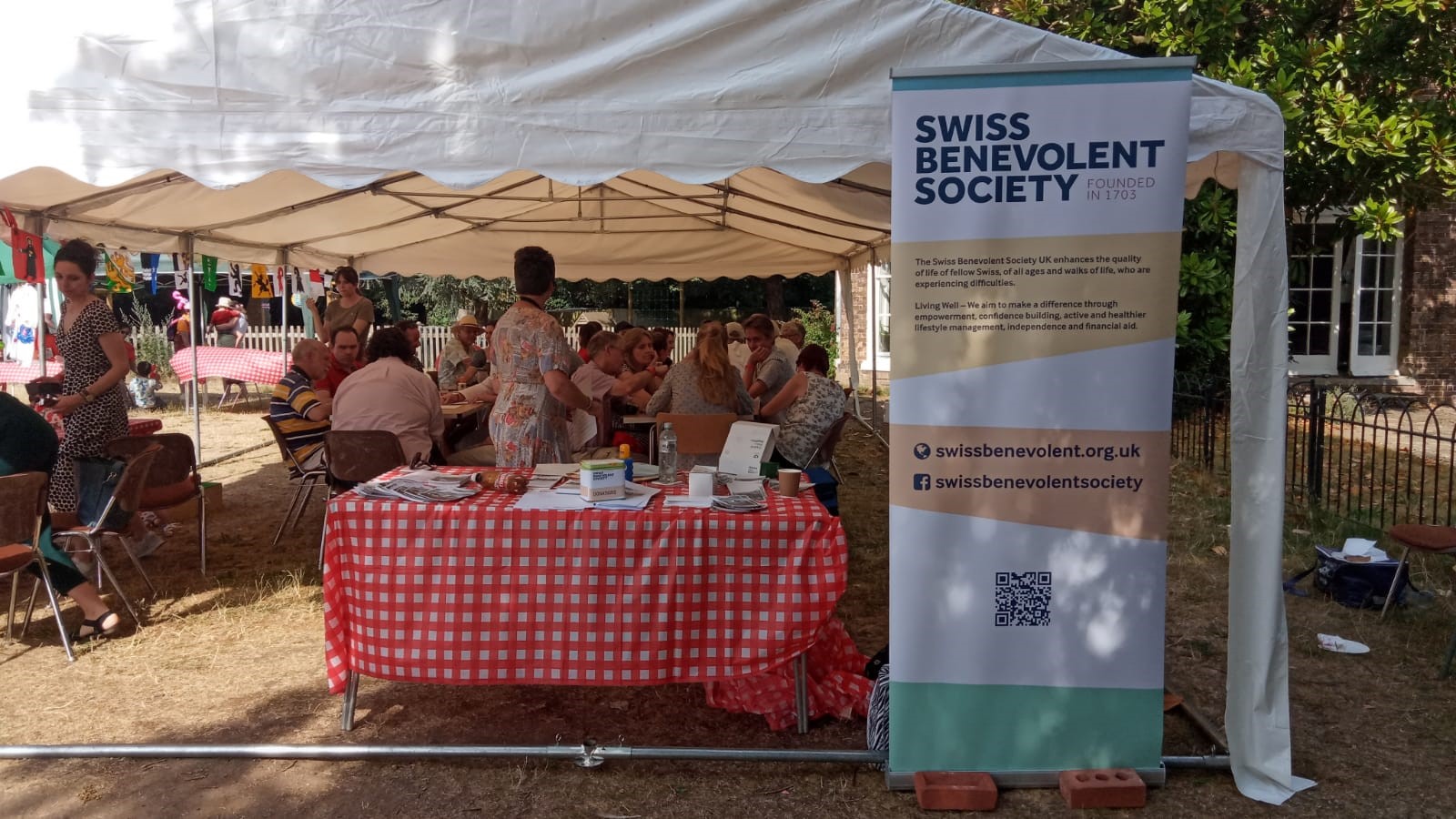 Swiss Benevolent Quiz at Swiss National Day Celebration London 17th July 2022
The SBS sponsored a "Pub" Quiz with a Swiss Twist. It was a bit of a challenge for the six groups answering the 20 questions, 10 Switzerland and 10 UK related, but everyone had fun, enjoyed the atmosphere – in the shade! – and met new people.
More information here: Home | Swiss National Day London 2022 (snd-london.com)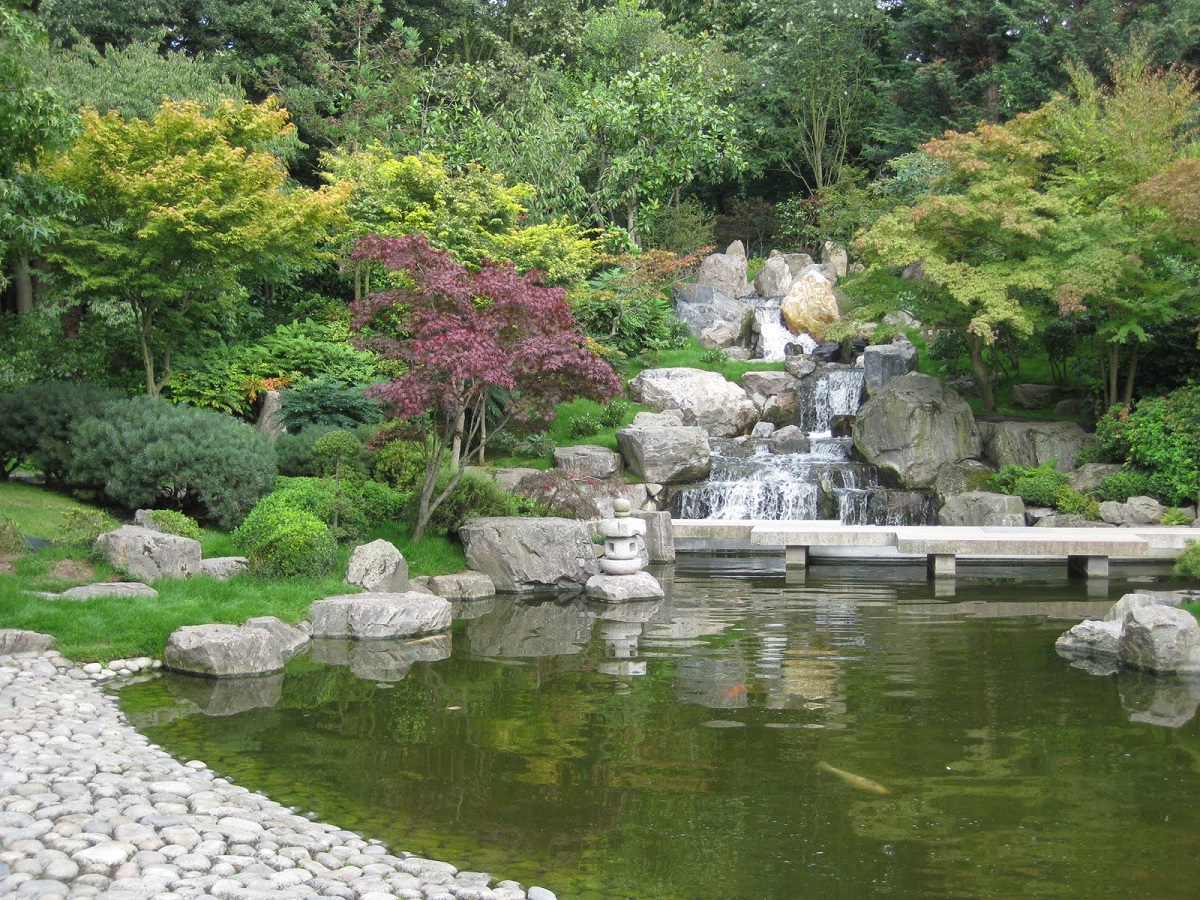 Swiss Benevolent Coffee Morning 13th July 2022
The last COFFEE MORNING meeting for the London Group before the summer break, took place in the Kyoto Garden which is situated in Holland Park. Suzanne Perrin, a regular participant of the SBS coffee mornings and a member of the Japan Society of the UK, kindly gave us a guided tour. Her knowledge about Japanese Art & Culture enriched this very special outing.
More information for your own visit: www.rbkc.gov.uk/leisure-and-culture/parks/holland-park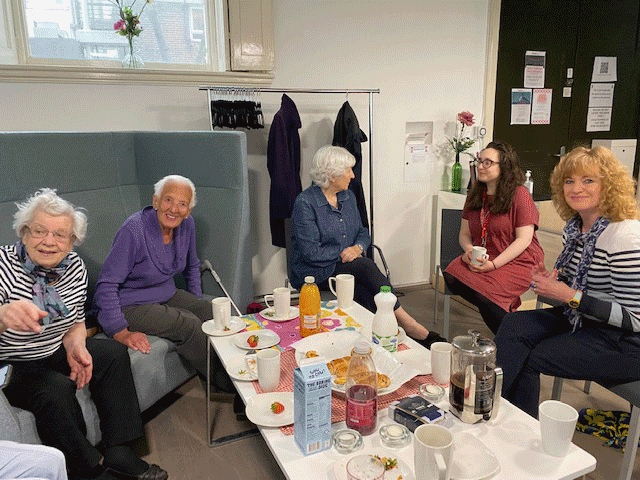 Coffee Morning at the SCL – 25 May 2022
We are back and attending in person, this is our first coffee morning and it went very well. Our topic was the effect of the pandemic and social behaviour. Each participant took part and shared how they felt on this topic or shared their observations.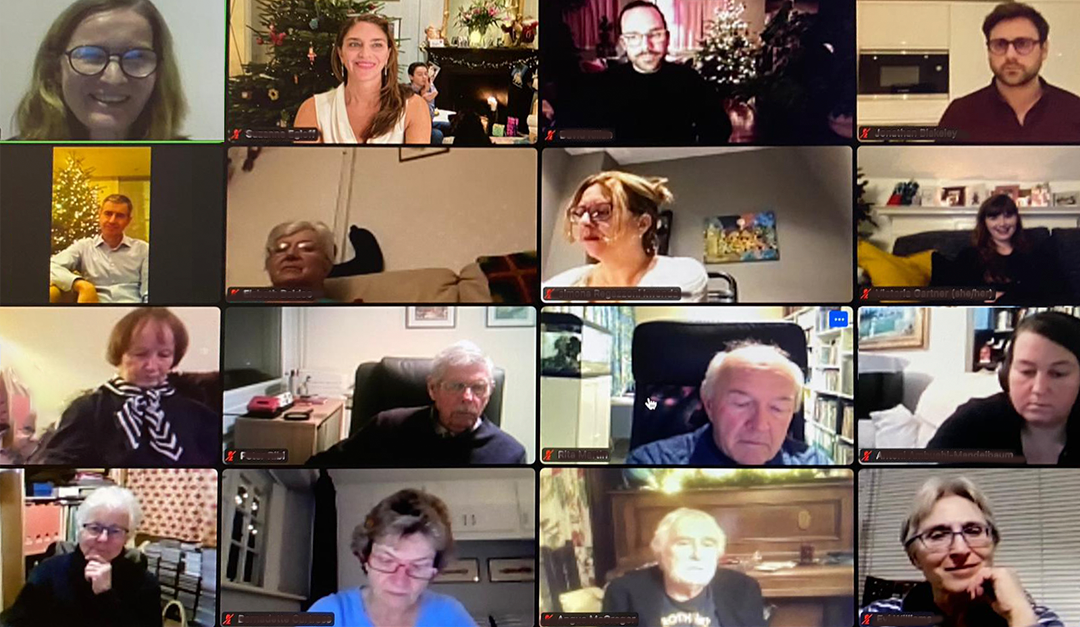 Christmas Zoom Gathering – 21st December 2021
The Swiss Benevolent Society celebrated the many holidays of the winter season with an evening event for Swiss in the UK to enjoy laughter, conversation, community and culture. The virtual program was hosted by the Chairman Suzanne Egloff along with the Patron of the SBS, Ambassador Leitner on December 21, 2021. The community conversed in their relished chat break out rooms, sharing Swiss ways and heritage. Wellbeing tips to support everyone during the latest wave of restrictions, was offered by the Welfare Officer Petra Kehr-Cocks. The address of the Swiss Ambassador encouraged consideration for those in solitude during this holiday season and that to simply reach-out could lift ones day. Entertainment by Jonathan Blackley, who performed the abridged version of Charles Dickens' A Christmas Carol – reminded us that "there is nothing in the world so irresistibly contagious as laughter and good humour".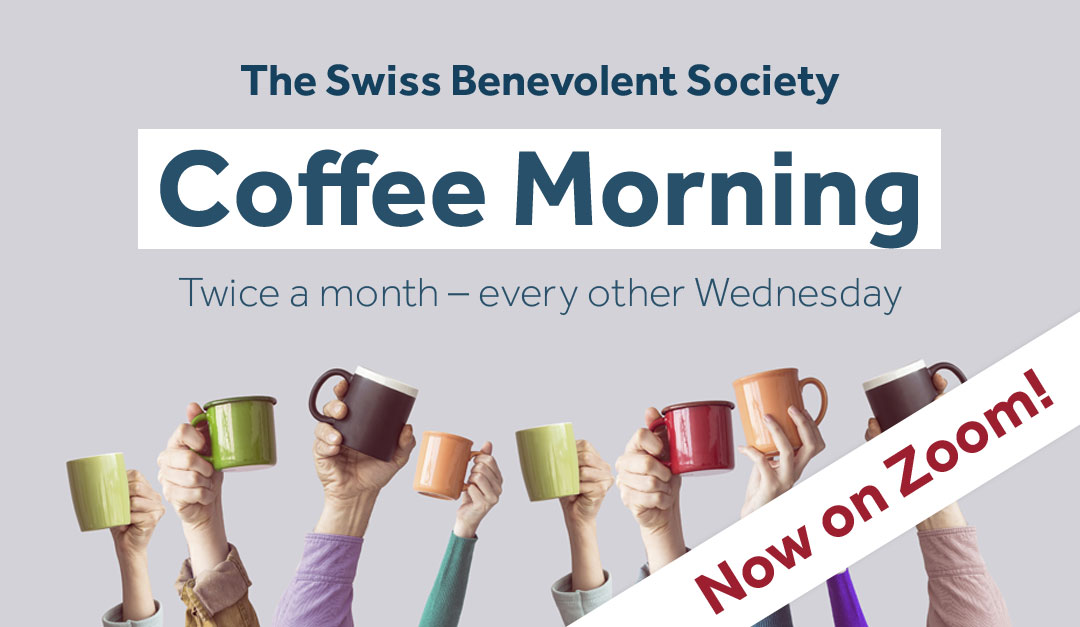 Swiss Benevolent Coffee Morning – Still on Zoom!
After much success over the previous weeks, the SBS Coffee Morning continued to take place on Zoom!
Our friendly group of all ages and with a Swiss connection, gathered fortnightly for a relaxed and laid-back chat. We welcomed everyone to join us between April 2020 – July 2021.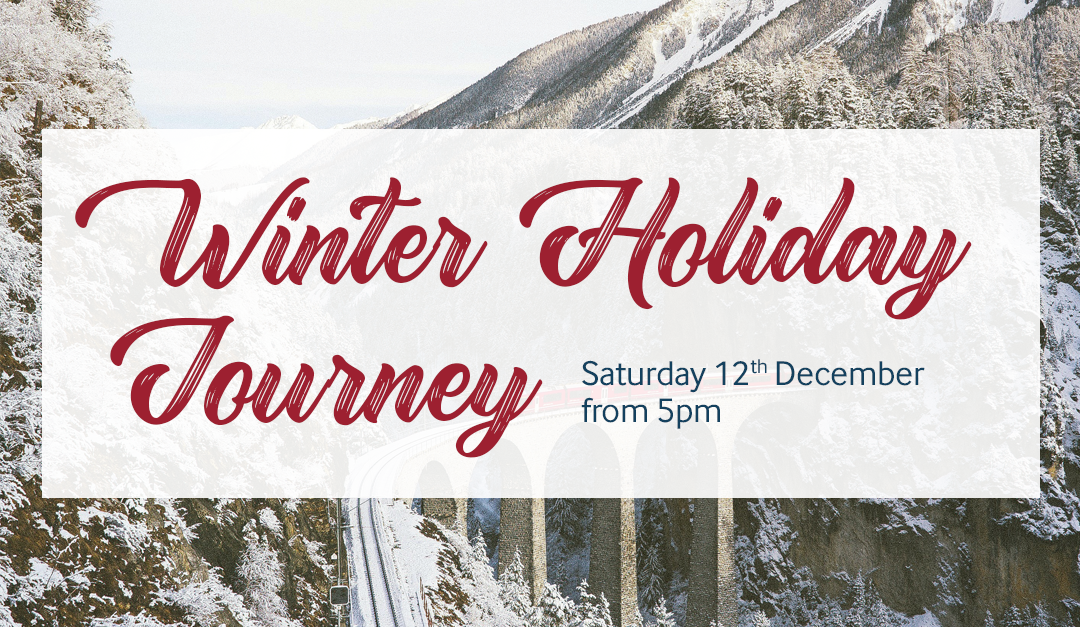 Winter Holiday Journey
Saturday 12 December, from 5 pm
Grab a cocktail, put on your festive finery and join us online for a Swiss Winter Holiday Journey!
Gather around with your friends and family (within your social bubbles, of course!) and we'll guide you through a realm of Swiss entertainment to bring those magical
and merry times in Switzerland to your homes.
Our special guest Ambassador Alexandre Fasel will also welcome us as Patron of the Swiss Benevolent Society.
The journey will have something for everyone of all ages and will be a joyous occasion to connect with the Swiss community in the UK!
Email rsvp@swissbenevolent.org.uk if you would like to participate, and we'll send you the Zoom link!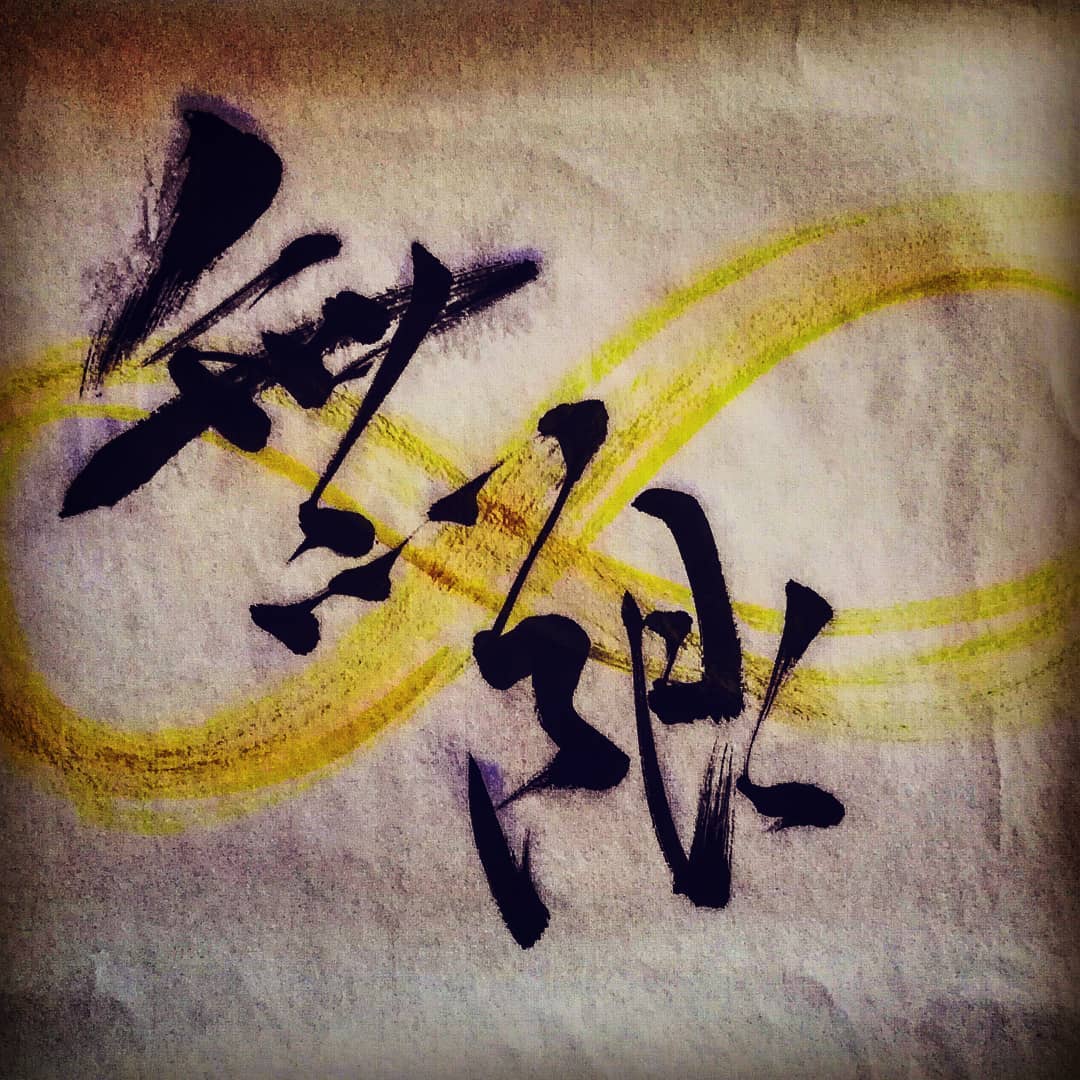 Calligraphy Workshop
Swiss Benevolent Society Coffee Morning
– Special Event –
79 Endell Street, Covent Garden, London, WC2H
Wednesday 30th October 10:30 – 12:30
Workshop on Japanese calligraphy with a Japanese Calligrapher.
Participants will have a go at their own calligraphy art work, paper, brushes and ink will be provided under the guidance of our Japanese Calligrapher.
£5:00 cost towards art materials
Places limited to 15, please book in advance.
email: info@swissbenevolent.org.uk
The Swiss Benevolent Coffee Morning is held every last Wednesday of each month and open to all Swiss Nationals. It's an opportunity to meet and get together and chat over tea or coffee in a relaxed and friendly atmosphere.
We usually have a few topics to debate on the day and we all take part discussing them.
We plan to have a workshop 3 times a year on a specific topic where a guest is invited to do a presentation/workshop.
The Swiss Benevolent Society UK enhances the quality of life of fellow Swiss, old and young, from all walks of life, who are experiencing difficulties.
Phone: 0207 836 9119 Email: info@swissbenevolent.org.uk
Please message Petra for more information if you are interested.
Read our blog post about May's Coffee morning here.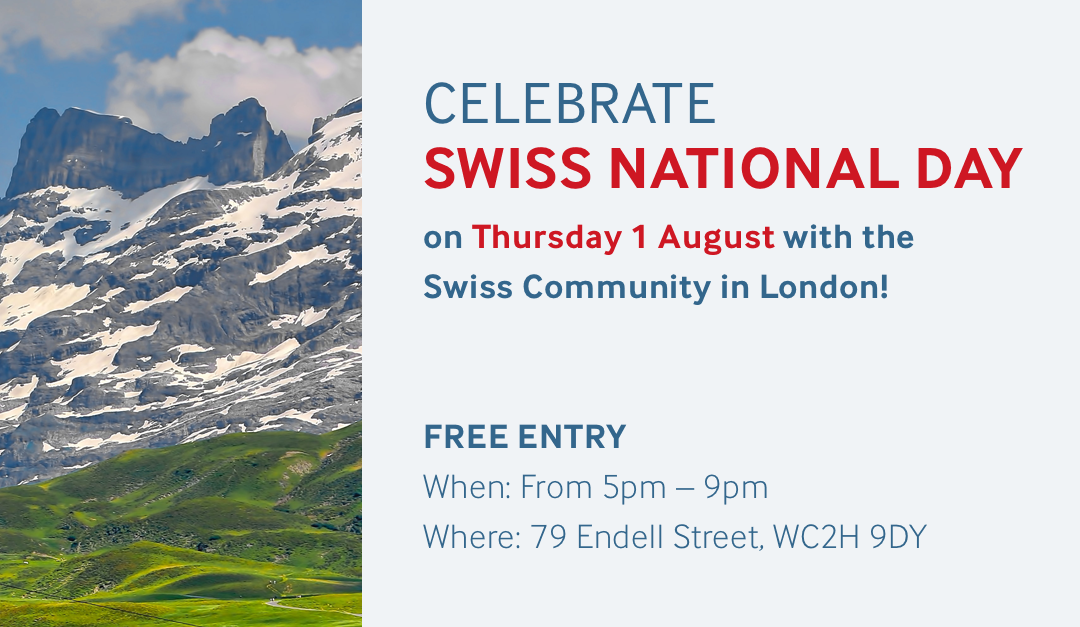 Thursday 1st August – Swiss National Day
Swiss National Day celebrations in London will be held at the Swiss Church. The event will feature a programme of activities, alongside food and drink stalls!
To find out more, click here.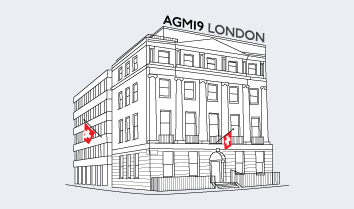 Friday 17th May – Sunday 19th May – Annual Congress of the Swiss Societies UK (FOSSUK)
Suzanne Egloff, President of the Swiss Benevolent Society shall be presenting with H.E. Ambassador Fasel and Sarah Lagger about Brexit and citizen's rights.
Free to attend at the Swiss Embassy, London. Reservation is required and spaces are limited.
Please visit the FOSSUK website for all Congress documents and the full agenda.
If you would like to attend, download the form below, complete and return to info@swiss-societies.co.uk by Friday, 10th May 2019.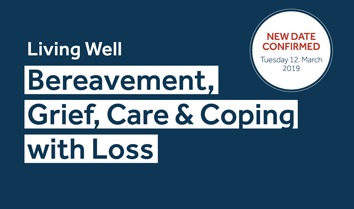 12th March 2019 – Bereavement Seminar, in partnership with Cruse Bereavement Care
Building hope for the future
A seminar to discuss bereavement, understanding grief, self-care and coping with loss to build hope for a new future. The discussion will be lead by the experts at Cruse Bereavement Care in association with the Swiss Benevolent Society. Support to help accept the reality of loss can be valuable as everyone's' experiences and responses are individual to them. Keeping in mind that bereavement can impact people in different ways whereby one might possibly experience reactions or a difference in feelings, behaviours, thoughts, physical reactions, or relationships for a period of time.
Various support sessions will be discussed from one-to-one to group.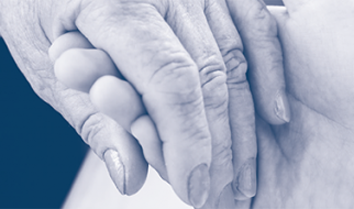 28th September 2017 – Ageing Well – Dementia or Age-Related Memory Loss?
A seminar for Swiss citizens and their families/friends living in the UK explaining everything about dementia, including the difference between normal memory loss due to ageing and signs of dementia. Can it be prevented?
With over 850,000 people suffering from dementia in the UK, a figure due to rise to 1.1 million by 2025 and two million by 2050, dementia is likely to affect most families. 
Date: Thursday, 28 September 2017
Location: Embassy of Switzerland, 16–18 Montagu Place, London W1H 2BQ
Time: 6.30pm – 8.30pm
Cost: Free of charge