Swiss Embassy in London: Message from Ambassador Alexandre Fasel
Friday, May 29th, 2020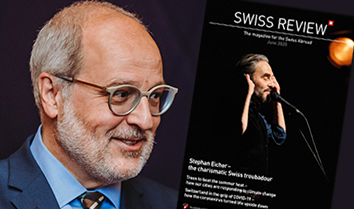 Dear compatriots and friends,
In the last couple of months the world has changed beyond recognition, in a way that was unimaginable until recently. The coronavirus pandemic has served as a harsh reminder of humanity's vulnerability, in a globally connected world where we've seen the tragic and devastating consequences of a virus that does not respect national borders. Whoever we are and wherever we are in the world, we have all been touched by the effects of the virus in some way and only together will we overcome it.
Whilst we are all adjusting to the new world that coronavirus has brought, living life in lockdown and missing our friends and families, we are also seeing the best of our common values of togetherness, solidarity and wanting to support each other. That's why, as tough as things may feel currently, I know that ultimately we will all get through this crisis together and emerge on the other side with renewed hope and optimism for the future.
As an Embassy we have continued to support our citizens throughout the current crisis. Over the last weeks we've helped numerous people stuck in emergency situations, in need of support or simply with questions that needed answering, through our dedicated helpline, via email or in person with an appointment. We have also set up a webpage dedicated to coronavirus on our Embassy website providing useful, reliable and up-to-date information sources if you have any queries or concerns.
We have also been conscious of the need to reach out to our citizens in the UK, many of whom have now been living under lockdown for many weeks. With this in mind, our Culture Department has launched the Connec+ initiative to help people stay connected at this challenging time. As part of this initiative, online cultural content is being shared in a weekly newsletter and on the Embassy's social media accounts for as long as social distancing rules remain in place in the UK. You can sign up to receive the newsletter by emailing london.connect@eda.admin.ch.
A set of postcards with information about COVID-19, the Swiss Benevolent Society's helpline, cultural activities, art and poetry has also been sent to Swiss households as a physical gesture of support and solidarity at this challenging time. Even though the coronavirus has turned society upside down in many ways, at the same time life does and must continue as much as possible. I'd therefore like to take this opportunity to issue a friendly reminder: if you are a Swiss citizen living in the UK without dual British-Swiss nationality, you must apply for settled or pre-settled status through the EU Settlement Scheme by 30 June 2021 in order to continue living, working or studying in the UK beyond that point. You can find out more information about this on our Embassy website (www.eda.admin.ch/london/brexit). We continually update our FAQs to reflect the latest developments so please visit our website in the first instance with any questions you may have.
Read the full Swiss Review Issue 03/2020
Gioia Palmieri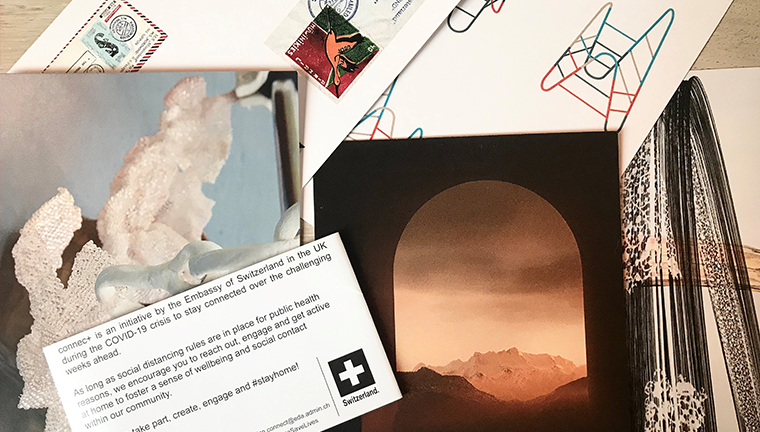 Above: A set of cards with information and activities has been sent out to Swiss households.
I would also like to announce two changes that have recently taken place in our honorary consuls network, in Northern Ireland and in Wales.
Mrs Ruth Thomas-Lehmann, Honorary Consul in Cardiff, retired on 31 December 2019. Her successor, Mrs Marlies Hoecherl, was appointed as the new Honorary Consul in Cardiff by our Federal Councillor for Foreign Affairs, Mr Ignazio Cassis, with effect from 1 March 2020. Mrs Hoecherl has been living and working in Wales since 1989. She is a lawyer by profession and is presently a Partner at the Cardiff law firm Capital Law Limited, in whose premises the Consulate has been hosted for several years. Through the activities of her law firm, Mrs Hoecherl has close ties with Switzerland as well as with local authorities. Being fluent in German and French she is also in a position to help and support the Swiss community in Wales and Swiss tourists who encounter problems while visiting Wales.
Mrs Franziska Hewitt, Honorary Consul in Belfast, has stepped down from her duties to pursue new activities. Her successor, Mr Michael Hewitt, was appointed as the new Honorary Consul in Belfast by Federal Councillor Ignazio Cassis with effect from 1 March 2020. Mr Hewitt is the husband of Franziska Hewitt. He was born in Northern Ireland and is a British, Swiss and Irish national. He works at DoubleBand Films in Belfast as a film producer and company director. He has extensive knowledge of the political, economic and social situation in Northern Ireland and through the former activities of his wife, Mr Hewitt is well accustomed to the responsibilities of an Honorary Consul and is ready to help and support the Swiss community in Northern Ireland and visiting Swiss tourists.
I would like to express my sincere thanks to Ruth Thomas-Lehman and to Franziska Hewitt, for their valuable and exemplary service. For 13 and 11 years respectively, they have been promoting Swiss interests, facilitating visits with local government and business leaders and liaising with the local Swiss community. With their support we were also able to bring the Swiss Ambassador's Award Concert tour to venues in Cardiff and Belfast. I am convinced that in conveying these thanks I am also expressing the feelings of the entire Swiss community in Wales and Northern Ireland, who have been so well served. I'd also like to welcome Marlies Hoecherl and Michael Hewitt to their new roles. They are joining us at an interesting time, but I'm sure they will soon make their presences felt and they are both welcome additions to our consular network.
As we enter the warmer months as summer approaches, I hope you and your families all keep safe and well in these challenging times. I do sincerely hope that in the not too distant future I will be able to welcome many of you to an event at the Embassy, as soon as it is safe to do so. Until then, please take care, look after your health and wellbeing and ensure that you stay safe.
With my best wishes,
Alexandre Fasel
Ambassador of Switzerland to the United Kingdom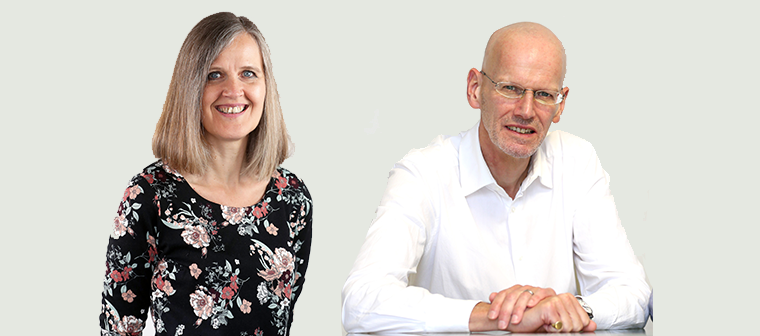 Above left: Mrs Marlies Hoecherl was appointed as the new Honorary Consul in Cardiff.
To get in touch, please write to: cardiff@honrep.ch
Above right: Mr Michael Hewitt was appointed as the new Honorary Consul in Belfast.
To get in touch, please write to: belfast@honrep.ch